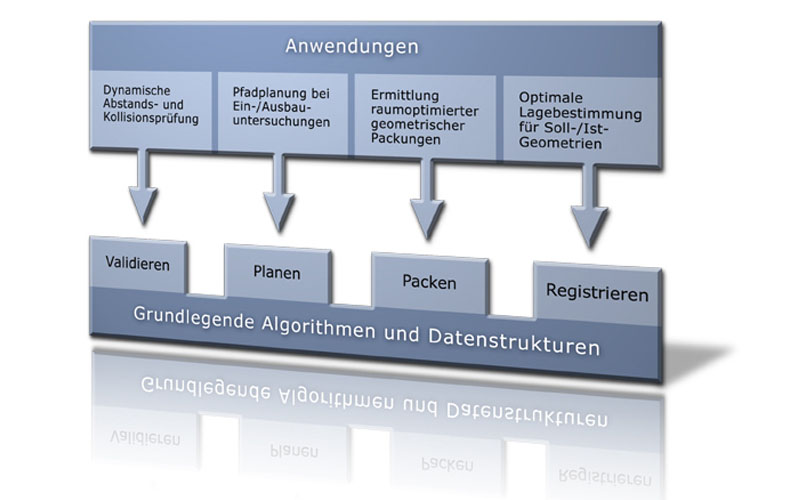 The complex and challenging requirements in developing Digital Mockup software solutions call for a permanent examination of new technology and innovations. Therefore Teraport GmbH is eager to invest into research and development so that they can offer their customers algorithms state of the art.
Teraport GmbH is pleased is pleased to announce a partnership with HfT Stuttgart and the University of Mainz two competent partners in the scope of science specialized on complex algorithms. In the context of a funded project of the "Federal Ministry of Education and Research" (BMBF) named "FHProfUnt" (Research on Universities of applied sciences in cooperation with companies) Teraport GmbH as an industrial partner realizes a research program with the two universities. The BMBF assessed the joint project named RASAND (Robust algorithms for distance calculations with great amounts of moving triangles) despite rigorous selection criteria as high innovative and as a result ensured the funding. The goal in RASAND is to develop new approaches for dynamic distance analysis of movable components in complex products as for example automobiles. Mrs. Prof. Wolpert the proposer from the HFT Stuttgart defines the goals as follows: "In RASAND we want to develop algorithms and software which execute efficient and reliable distance analysis for movements consisting of triangle mass data. In order to manage the large amount of data the new algorithms will especially make use of the parallelization mechanisms of modern hardware."

The Teraport GmbH already offers their customers solutions in the scope of dynamic checking analysis. Nevertheless it is crucial to be prepared for the future challenges especially having in mind that the requirements are getting more and more complex, the amount of data rises and the time targets shorten. New technological ideas must be verified and implemented at an early stage. The dynamic checking of distances especially working with mass data is a common challenge in practice. Typical customer examples are the seat-, convertible top- and motor movements.   With the expertise in mathematics in the field of high efficient, robust and fast algorithms of universities and the wide experience of requirements in the industry of Teraport GmbH a basis for optimal results is established.
Mr. Pantelic executive manager at the Teraport GmbH amongst others responsible for cooperation with universities also recognizes the benefit for the customers: "By cooperating with universities that are specialized in our niche segment we are investing into the future. Our goal is to develop optimized software solutions. This guarantees our customers the best practice and most innovative digital mockup technology, now and in the future".
https://teraport.de/wp-content/uploads/2011/06/News_013_Rasand.jpg
500
800
Teraport GmbH
http://teraport.de/wp-content/uploads/2015/02/TP_340_trans-300x136.png
Teraport GmbH
2011-06-22 12:00:45
2015-03-30 08:22:56
Research project RASAND: Teraport GmbH as a cooperation partner of the University of Applied Sciences (HfT) Stuttgart and University of Mainz